Rules and such
Will this work for what we want it to do? I have no idea so let's see
Navigation
This is where things and stuff will go
The Hunter
Created by
:Vatusia

Character's Name: Dimitri Shikov
Character's Family: Dimitri is part of the Sakhalin Arctic Fox Clan of Russia. His immediate family consists of seven brothers and sisters, his twin Nadya, and his parents, though he has many uncles aunts and cousins.
Character's Bonded Partner: None
Race: Mammalian - Arctic Fox DNA
Taken/Bred: Taken
Height: 178cm/70in
Weight: 75kg/166lbs
Age: 19 years old
Build: Average height with an athletic build. He has enough muscle mass to carry heavy loads. His shoulders are wider then his hips, but not by much.
Hair: Waist length hair with bangs that end just before his eyes. His hair changes from sand blonde in the summer to white in winter.
Eyes: Pale blue, almond shaped eyes
Skin Color and Ethnicity: Alabaster in the winter, but in summer Dimitri takes on a light honey tan. He was taken from Russia, so it can be assumed that he is Russian, plus he does enjoy drinking vodka.
Wardrobe: Dimitri prefers loose, comfortable clothing, anything he can move freely in. On his off time he likes wearing japanese clothing, his favorite at the moment is his sleeveless yukata.
Distinguishing Features: His ears pretty much give away that he's not human and if that didn't scream Mammalian, his sharp canines do.
Personality: Dimitri is a very quiet teenager, preferring to remain on the side lines of social interactions and observe. He doesn't speak much, his few words thought out carefully. Dimi can be very playful at times, serious and calculating at others. His upbringing taught him to keep his emotions carefully hidden from any unknown subjects that could possibly use them against him. All in all, Dimitri won't open up until he trusts the people around him, which can take a lot of effort or none at all, depending on the feeling he gets from the person.  
Interesting Mannerisms: Tends to be sluggish between June and August, prefers to eat eggs raw, and avoids loud noises if at all possible
Character's Relevant History: Dimi was raised like any other Arctic Clan child, taught many subjects that would help him survive in either the arctic wastes or in the suburban jungle. A year ago Dimitri started wandering around the forest area in the summer, which is how he got caught recently.
Character's Occupation and Educational History: The Arctic Clans were all taught together during the summer the traditional school subjects; math, science, reading, writing, and music. During the winters they were taught hunting and survival until they were thirteen. After hitting thirteen all the children began teaching their younger siblings and readying themselves to set off on their own.
Character's Housing and Immediate Environment: Dimitri used to live in one of the houses his parents had built for their growing children. The house was built into the side of a hill, mostly underground and hidden. During the winter however they would all separate and explore the arctic, as was tradition for the Arctic Clans.
Character's Hobbies: Strangely enough, Dimitri loves carving wood and cooking. He also makes it a point to follow any strange scents he picks up.
Preferred Fighting/Hunting Style: Dimitri was trained to hunt and track through his sense of hearing. He uses self defense for most fights, preferring not to attack until he knows he has the upper hand.
The Psycho
Created by
:Vatusia

Character's Name
: Vicera "Vic" Lesin (Vik-kear-a Le-seen)
Character's Family
: Vicera's parents are dead. They were murdered when he was sixteen, in an attack that is believed to have caused Vic to become bipolar.
Character's Bonded Partner
: None so far
Race
: Elf
Taken/Bred
: Taken
Height
: 182 cm / 72 in approximately
Weight
: 66 kg / 145 lbs
Age
: 20
Build
: Vicera has seemingly delicate features, though he is resilient due to his elven genes. He has a long willowy frame, with lean muscles and thin bones.
Hair
: He has long black hair that brushes his cheekbones at it's shortest and covers the nape of his neck at its longest.
Eyes
: He has dull red eyes that light up when he gets interested in things or people.
Skin Color and Ethnicity
: Vicera is a northern European, though from where is unknown. He has warm ivory skin, with visible veins marbling his skin.
Distinguishing Features
: Vic has a blue star tattooed underneath his left eye.
Wardrobe
: Vic has a thing for top hats, vests, ribbon bow ties, button down (plain colored) shirts, suit jackets with strange patterns, boas, scarves, canes, normal black pants, abnormally colored belts, plain shoes and mismatched socks. He also doesn't like wearing his shirts fully buttoned.
Personality
: Vic is insane, diagnosed with bipolar disorder, though he only really exhibits the manic side. When he is not in experiencing a manic episode, Vicera can be both charming and sarcastic. He's not above manipulating people, in fact he generally enjoys it. He's a clever man and will change his personality to avoid getting into trouble.
Interesting Mannerisms
: Tends to smoke whenever he can, though usually not actually smoking it but keeping his lips around it.
Character's Relevant History
: Vicera used to live with his parents. An attack on his family's home left the boy an orphan and traumatized, leading up to him joining a wandering carnival. After five years with the troupe, he was taken from his new family to be an experiment.
Character's Occupation and Educational History
: Before his parents murders, Vic was a normal elven boy, being home schooled with other elves his age within the community. After his traumatic experience he ran away from the elven community, joining a circus. There he worked as a janitor, errand boy, guard, anything they needed him to do. In return, they would teach him street skills such as pick pocketing, reading people, and self defense.
Character's Hobbies
: Vicera loves analyzing people and messing with their minds, but more then that he loves playing cat and mouse with those around him.
Character's Housing and Immediate Environment
: The troupe never stayed in one place more than a week, so Vicera was always moving around. As one of the younger members of the carnival, he was usually sleeping with the equipment to ensure nothing was stolen during night.
Preferred Fighting/Hunting Style
: Trickster fighting/Carnival style
Other
: His character song is I'm Only Joking by The Kongos
The Innocent
Created by: Vati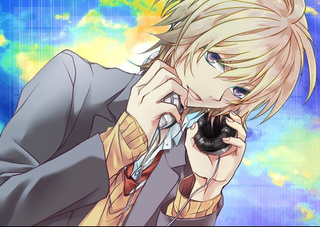 Character's Name: Landon Alensis
Character's Family: Little sister, Lei, who lives with his Aunt
Character's Bonded Partner: None
Race: Mammalian (Leopard cat)
Height: 5'7" / 170 cm
Weight: 140 lbs / 63.5 kg
Age: 17
Build: Small frame with delicate bones and long limbs
Hair: Layered wavy champagne blonde hair that end at his shoulders
Eyes: Gold on the outside with lavender gold in the middle
Skin Color and Ethnicity: Landon had cool ashen skin. He was raised in northern Europe, traveling around with his family.
Distinguishing Features: His eyes or his tail, or perhaps that alarming amount of glitter he trails after him
Personality: Landon is a peaceful soul who is perhaps too innocent for the world around him. He has a very caring and loving personality and generally doesn't think the worst about those around him. He is care free most of the time, though his rapid mood changes do bother him when they happen. Landon goes with the flow most of the time, trying not to stress about much and make the best of the every situation. When he finally does anger it's mostly self-destructive
Interesting Mannerisms: Always carries a packet of glitter with him, always has his nails painted some fun color. And if neither of the above are true he is sick and you need to cuddle him. Immediately.
Character's Relevant History: His parents left Lei and Landon in the care of their Aunt when he was young and she was just a baby, leaving no explanation for the siblings. since then he has been taking care of his little sister and growing up like a normal child. More recently he received a scholarship to a music school in Eden. He headed out with a promise to his little sister that he would do well and come back whenever he could.
Character's Occupation and Educational History: Landon didn't have a job, other then babysitting his little sister for his Aunt while she was at work. He did finish high school early, using the time to watch over Lei.
Character's Housing and Immediate Environment: With the change in city, Landon was forced to find a place to stay near the campus of his school. All the dorms were taken so he was invited to stay in the Lofts.
Character's Hobbies: Landon's hobbies including pouring glitter into food to see who will notice, piano, singing randomly, cello, and cuddling.
Wardrobe: Despite his rather flamboyant personality, Landon usually likes wearing rather normal clothing. Jeans, a tee and a hoodie are his go to outfit, even if it's boiling hot outside. Given he will wear just about anything, he does like the feel of casual clothing. It makes him feel comfy cozy.
Preferred fighting/hunting style: He would prefer to not fight, ever, but otherwise he just throws everything he has at the enemy, though he has absolutely no skill. At all."
The Homeless Boy
Basics
Name (& pronunciation)
: Miles Hanley
Date of Birth (& age)
: August 25th, 2028 (18)
Gender
: Male
Race
: Super-Human
Language
: English
Family/Friends/Pets/Etc
: None
Bonded Partner
: Doesn't have a bond
Physical Description
Height
: 5'5"
Weight
: Around 115 to 120
Hair
: Ocean blue hair that hangs to the nape of his neck and just below his eyes, always messy and curling slightly at the ends.
Eyes
: Large, wide teal eyes
Detailed Physical Description
: Miles looks like he has a thin frame, though that is due to being severely under fed for so long. When he has enough to eat, it is revealed that he has a medium build, with just under average muscles for his size. While he has naturally light skin, most of the time he is tan due to his time outside. The Super-Human has nape length deep blue hair that shortens in the front to cover his teal eyes. There isn't much that those large, wide eyes miss. Miles is usually covered in bruises and scratches, his skin easily becoming damaged even if the pain isn't enough to bother Miles.
Typical Clothing/Equipment
: Miles wears anything he can find, though it's always dirty and usually riddled with holes.
Personality/Attributes
Personality/Attitude
: Miles can be very possessive of things he finds, having to hold on to his things or lose them. Otherwise he is very mistrusting of people until he finally latches on to them, and then he will do anything to please them. He isn't a very cuddly person, unless he's scared or it's cold. The only time he is quick to anger is if you go after what he thinks is his, and he will start fights over what he needs if he thinks he has a chance. Otherwise he keeps his emotions as hidden from the outside world as possible.
Skills/Talents
: Reading people, staying level-headed, detaching himself to think clearer, finding small, safe places, and getting away from fights.
Favourites/Likes
: Reading, food, crowded areas, and scented things
Most Hated/Dislikes
: Spoiled brats, wasteful people, cultural norms, and worms
Fears
: Starvation, the cold, and dying slowly
Hobbies/Interests
: People watching and reading
Most Instructive/Painful/Memorable Experience
: Getting kicked out by his family at the age of fourteen for not being the same as the other children
Relevant History
: Miles was a subject in an experiment testing Super-Humans relations to Humans. He was kicked out of the facility when he was a twelve, left to the streets. Since then he's just been trying to survive in the big city alone.
Preferred fighting/hunting style
: Ambush if at all possible, if not then gang up on the target. Brute force if in one on one combat, otherwise be as sneaky as possible.
Last edited by Vatusia on Mon May 15, 2017 1:19 pm; edited 2 times in total
The Tracker
BasicsName (& pronunciation)
: Nakai Misre (NAH-ky miis-ree)
Date of Birth (& age)
: June 13th, 21
Gender
: Non-binary
Race
: Mammalian, Himalayan Wolf
Language
: English
Family/Friends/Pets/Etc
: Parents, Jacob and Annie, sister, Lina, missing brother, Nial, two pets, Warz, an Irish Wolfhound, and Kit, a domesticated fox.
Bonded Partner
: None so far
Physical DescriptionHeight
: 5'7"
Weight
: 138 lbs
Hair
: Straight chin length white hair, cut in many wild layers. Nir bangs hang over nir right eye, while the rest of nir hair tends to stick up slightly.
Eyes
: Large light blue eyes that turn to green closer to the iris
Detailed Physical Description
: Kai has a golden peach color that only lightens in winter to a warm beige. Kai has multiple piercings, two in nir left earlobe and one in the right earlobe. Ne has an oval face, with androgynous features and high cheekbones that lead down to a pointed chin. Kai has an average build with hidden muscles. There is almost no definition in nir body until that particular muscle is in use. The Mammalian has long, lithe fingers. Kai has a few well faded scars along nir arms and the backs of nir hands, from training long ago. There is also one long scar on nir side from trying to get information from the wrong source.
Typical Clothing/Equipment
: The Mammalian prefers to wear gender neutral clothing, though varying more into traditionally more male clothing if unable to find something neutral. Fingerless gloves and under the knee boots also tend to be added to all outfits if possible, though they aren't a necessity.
Personality/AttributesPersonality/Attitude
: Kai is very blunt, straightforward and generally won't participate in shenanigans. Ne has a lot of patience and tolerance though, something ne gained from years with nir siblings. The non-binary doesn't tend to be bothered with correcting people's assumptions or observations unless it will directly affect something ne has to do, which has lead to many people thinking ne is in fact male or female and never getting corrected. In fact, unless directly asked, ne tends to not volunteer information unless the situation demands it. Though Kai likes being able to do nir own thing, ne doesn't like being left alone, preferring instead to have nir own place in a group where ne can do whatever ne wants. Though usually standoffish, when someone threatens nir pack, Kai reacts violently and with the clear intent to end the threat. There is very little ne wouldn't do to keep those ne cares about safe.
Skills/Talents
: Tracking, stealth, unarmed combat, and the elderly sibling look of disapproval.
Favourites/Likes
: Being left to do nir own thing in a group, being around others, peace, reading, and strawberries.
Most Hated/Dislikes
: Repetition of information, idiots, being alone, absolute quiet, condescending attitudes, and getting wet.
Fears
: Being left alone and losing those ne cares about.
Hobbies/Interests
: Violin, billiards, and reading
Most Instructive/Painful/Memorable Experience
: Two years ago, the day that nir brother, Nial, went missing.
Relevant History
: Kai insists that the only 'relevant' thing that happened in nir past was the disappearance of Nial two years ago. Anything else never gets mentioned or answered.
Fighting/Hunting Style
: Kai prefers to fight unarmed, or with light weapons. Though if ne has nir way, the target won't actually see Kai coming at all.

Similar topics
---
Permissions in this forum:
You
cannot
reply to topics in this forum